2023 SILVER AMERICAN EAGLE PROOF 70 COIN
COMING SOON!
---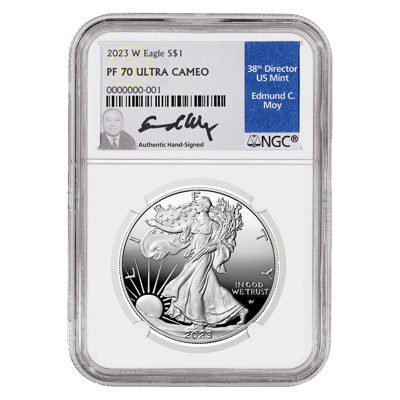 Get the Alert!
Complete this form to be notified as soon as it is available to order.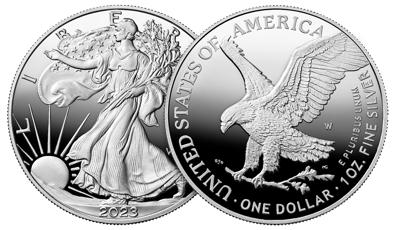 2023 Silver American Eagle Proof 70 Coin
The 2023 Silver American Eagle Proof 70 coin has been authenticated and determined to be in perfect condition. These coins offer a historically significant design and are unparalleled in their beauty, with a sharp strike and mirror-like finish. The 2023 Silver American Eagle Proof will feature the most recent reverse design of an eagle carrying an oak branch that was first introduced in 2021.
Sign up now to be notified when the newest release becomes available to order!
Key Features:
Each coin contains 1 oz. of .999 fine Silver
Exclusive Ed Moy hand-signed label.
NGC authenticated to be in perfect Proof 70 condition.
Distinctive and beautiful mirror-like finish of proof version.
Features the updated reverse design which debuted in 2021.

"The rep was very knowledgeable and gave me a short educational course on the benefits of both investment coins and bullion."
Nancy C. | Clearwater, Fl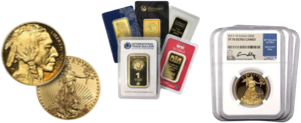 Gold Coins, Gold Bars & Investment Grade Proof 70 Gold Coins
We offer a huge selection of gold coins, gold bars and certified gold coins from mints around the world. Our highly trained gold experts are standing by to assist with your specific investment needs.
About Us
Wholesale Coins Direct brings trust and integrity to all aspects of the precious metals acquisition process. Our goal is to always exceed our customer's expectations by helping them to make better, more informed buying decisions.
Our parent company, Lone Star Tangible Assets, was selected by the Texas Comptroller's Office to build and operate the Texas Bullion Depository – the first ever state-administered gold bullion depository in the world!